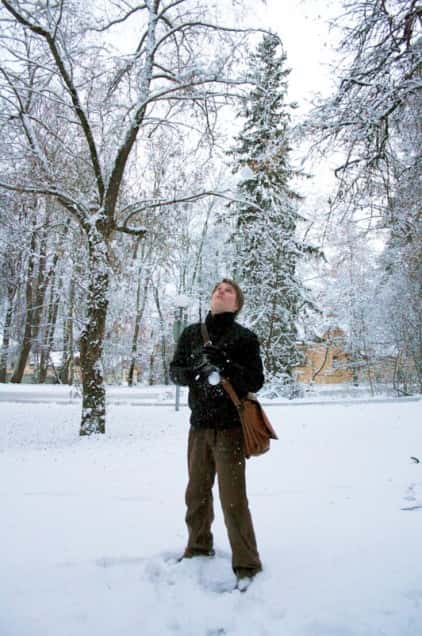 Finland is famous of many things: Aurora Borealis, reindeer, Santa Claus, Juhannus, a rich culture, and winter: including the snow and the freezing cold.

Many foreigners have never experienced a winter like the Finnish one, and it's not always clear what to expect. Therefore, this report will present some tips how to react to the cold and the snow.
Tuomas Roininen, student of the Masters program in Digital Culture, has also lived in Japan and UK for some time, so he is very familiar with the differences in weather and culture.
"The secret is to enjoy every aspect of it – the good and the bad", he explains.
"If you try to get the best out of everything, it works out for the best in the end.
You should hope the winter will be a white one. When there is snow, there are so many games and activities that can help you enjoy the winter properly. The most popular winter sports in Finland include skiing, ice skating, ice hockey, and there is the ski jump, but that is not something anyone can learn fast. There is a ski resort 4 km from downtown Jyväskylä, in Laajavuori
When the lake freezes, it is possible to ice skate or even just to walk over it, calmly. Either way, it is a great experience, even more if you come from a country where there's no snow.
"If you have the chance, go to Lapland. Not the touristic one, in Rovaniemi, but the real up, as far north as you can", Roininen says.
"We used to have a cottage 4 km from Norway, still in Finnish territory, and the time we spent there is something I will never forget. It is a different world, very hard to explain, but everyone should experience it someday. There you can surely see the Aurora Borealis, although it is possible here too, but not that often. And the natural life there is one of a kind. Believe me; you don't want to miss it".
Tuomas' tip is a simple one. "Enjoy yourself. Everything looks and feels better when you just relax and enjoy whatever comes. Don't fight it. Embrace it."
A good way to enjoy it is keeping oneself protected in proper clothes, so you can go outside and play. Layers are the secret. Wearing tights and long sleeve shirts under the pants and pullovers helps keeping one warm, without the necessity of too many layers.
Christmas can be a pretty difficult time for foreigners, especially when they can't visit their family, but here there are some nice tips to enjoy the Christmas holidays with fun and style.
"In Finland we have some pretty unique things here: the Christmas sauna, the ham, but it is mainly the same everywhere, it is all about spending time with the people you love", Roininen says.
There are, however, also many Finns who don't really enjoy the cold and dark weather. One of them is  Johanna Kinanen, a former student from Jyväskylä University of Applied Sciences (JAMK). Although she lived in Finland all her life, she hates the cold and dark weather and enjoys better the summer.
"I feel too lazy in winter. And I really feel the cold, so it can be quite annoying. Besides, I like when there is more sunlight. But there are some games I enjoy, when there is plenty of snow."
Most games she indicates are children's activities, but still pretty nice for adults too. Kinanen says she loves is playing with "pulkka", a sledge for children. It can be a very fun game to slide downhill in small hills of snow or even bigger ones.  And there are also snow fights, snowmen, snow angels, snow shower and many other games that can be done to enjoy your time outside in cold weather.
"It is also nice to sit near the lake, by a wood fire, cook sausages in it and just be there, talking to your friends. And the sauna can be a lot better with snow too. Walking outside after being in such a hot environment is great" says Tiina Jutila, student from JAMK.
"I'm actually quite anxious to make a big snowman. The snow can bring the child out of you, you are never to old to have fun".
Patty Toledo